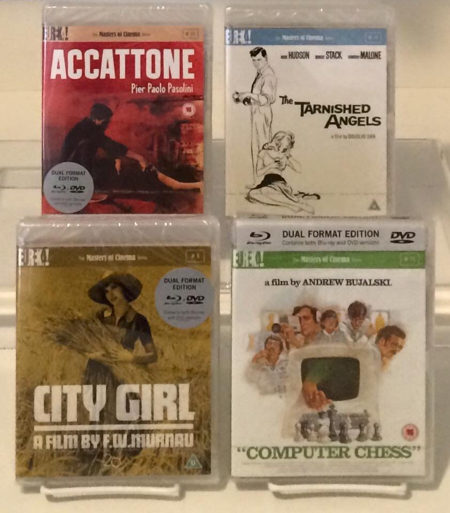 The shop received a quartet of British restocks from Eureka Entertainment's Masters of Cinema line today. Among the titles that arrived were Pier Paolo Pasolini's "Accatone," Douglas Sirk's "The Tarnished Angels," Andrew Bujalski's "Computer Chess," and F.W. Murnau's "City Girl."
By the time he signed a contract with Fox in January of 1925, F.W. Murnau was already heralded as one of the medium's greatest artists (William Fox, the studio's founder, called him, "the greatest moving-picture director in the world today"). Despite the commercial failure of Murnau's previous American release, the Universal-distributed "The Last Laugh" — which Fox had called "the greatest motion picture of all time" — Murnau was given free rein of the studio's resources. As Picture Play's Margaret Reid put it: "The little god of the Fox lot, Murnau has the best of everything for his work." It's widely accepted that the reason for this was because Fox, at the time a 2nd tier studio that cranked out low budget pictures, was looking to raise its artistic profile. Between hiring Murnau, introducing the Movietone sound system, and racking up a string of acquisitions both at home and abroad, William Fox was hell bent on making a bid for cinematic supremacy… and, at first, it worked. Fox's Movietone newsreels were a smashing success and Murnau's first Fox picture, "Sunrise," was the kind of prestigious triumph Fox had hoped for, taking home three prizes (including one for "Unique and Artistic Picture," which was intended to be a co-"Best Picture" award with the "Outstanding Picture" trophy, which was given to "Wings") at the 1st Academy Awards.
However, things would soon go disastrously wrong for Murnau. By the time his next movie, "4 Devils," was ready for release, American audiences had fallen head over heels for talking pictures. This essentially left the film as he'd made it without a mainstream domestic audience, which is why the studio made numerous changes (including adding dialogue) that altered the picture radically. The same fate would befall Murnau's third and final film for Fox, "City Girl," which was completed after Murnau, unwilling to make the artistic sacrifices necessitated by the primitive sound recording technology of the day, had handed in his resignation. While a silent version intended for (mostly foreign) theaters not yet equipped for sound existed, it was a sound version that briefly made the rounds domestically in 1930; the fact that it received even that token release was largely attributed to Charles Farrell, then a rising star at Fox, being the film's male lead.
For decades it was believed that both "4 Devils" and Murnau's silent "City Girl" had been lost (the sound version was destroyed in a fire in 1937), but in 1969 a copy of the film's silent version was discovered, which is why we're able to enjoy it today.