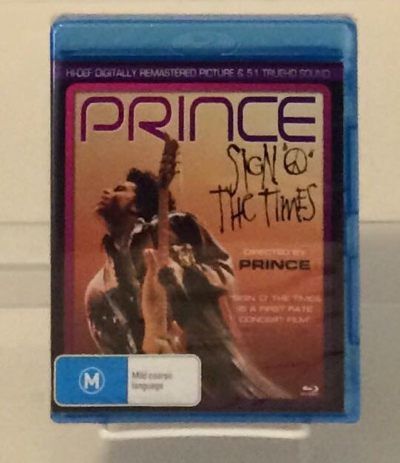 Only one arrival today: a restock of Prince's "Sign 'o' the Times" concert film from Australia.
Though it may have seemed like a well-timed attempt to broaden the crossover success that he'd garned with his smash "1999" album and its two hit singles, the title track and "Little Red Corvette," a foray onto the silver screen had long been in the works for Prince. According to keyboardist Lisa Coleman, "The idea of doing a movie had been bubbling for years. Prince carried a notebook, and he'd always come up with little scenarios on a plane or on buses or, back then, in the occasional station wagon." When it came time to renew his deal with manager Bob Cavallo, a studio picture with his name above the title was one of Prince's conditions. A search for a director brought them to James Foley, who later directed "Glengarry Glen Ross." However, when Foley hated the script, his then-editor Albert Magnoli stepped in to take the gig. Thus, "Purple Rain" was born.
For his next film after "Purple Rain," Prince decided to direct (although Magnoli is commonly listed as an uncredited director) as well as star in "Sign 'o' the Times," a concert film that was initially supposed to be cut together from a couple of stops in Rotterdam during the European tour in support of the album of the same name. However, due to the concert footage's poor audio and video quality, the vast majority of the film is taken from a reshoot at Prince's Paisley Park Studios in Chanhassen, Minnesota. "Sign 'o' the Times" captures Prince performing with the band that he assembled after disbanding The Revolution as they play a set comprised almost entirely of songs from one of his most critically acclaimed albums, showcasing the artist at one of the peaks of his creative powers.