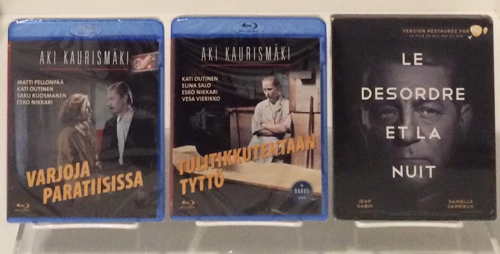 A new trio of online store additions is ready to join the ranks of the titles in the 4xblu online store. Today's triumvirate consists of Gilles Grangier's "The Night Affair" and a pair from Finnish director Aki Kaurismäki: "Shadows in Paradise" and "The Match Factory Girl."
"Shadows in Paradise" was Kaurismäki's third narrative feature, following his adaptation of Dostoevsky's "Crime and Punishment" and the self-written "Calamari Union," and the first installment in what came to be known as his Proletariat Trilogy. It features the first leading roles for Matti Pellonpää (who appeared in nine of the director's first 11 features before dying of a heart attack at the age of 44) and Kati Outinen, who was making the first of what would go on to be nearly a dozen appearances in the films of Kaurismäki over the past 30+ years.
In the film Outinen plays Ilona, a grocery store checkout girl who offers Pellonpää's character, a garbageman named Nikander, a bandage when she notices a cut on his hand. "Shadows in Paradise" is an offbeat romantic farce in the director's typical deadpan style, playing the humble couple's misfortunes, dashed hopes, and humiliations for wistful laughs against a bleak industrial backdrop.