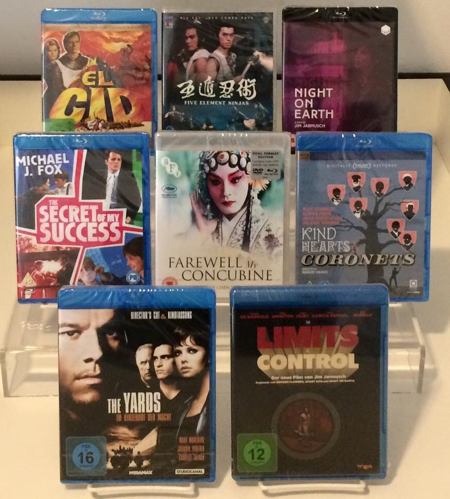 The shop received a considerable bundle of titles from Germany and Britain today. The latest round of arrivals consists of one new addition, Chang Cheh's "Five Element Ninjas," plus requested copies of Jim Jarmusch's "Night on Earth," Robert Hamer's "Kind Hearts & Coronets," and Chen Kaige's "Farewell My Concubine." Also included were a trio restocks, including the newly-reissued "El Cid" as well as James Gray's "The Yards" and Jarmusch's "The Limits of Control."
Throughout his career Jim Jarmusch has frequently taken some of the movies' most popular genres and put his own spin on them. Whether it's road pictures ("Stranger Than Paradise"), westerns ("Dead Man"), martial arts flicks ("Ghost Dog: The Way of the Samurai"), or vampire movies ("Only Lovers Left Alive"), his gift for observing these genres' conventions and filtering them through his unique wit and sensibility to create something altogether its own has made him one of independent film's most indispensable figures for more than three decades.
For "The Limits of Control" Jarmusch trained his talents on the spy thriller genre, with Isaach De Bankolé in the role of "The Lone Man," a sharp dressed international man of mystery. The taciturn investigator displays remarkable levels of discipline and determination while making his way in & around Madrid, journeying from one clandestine rendezvous to the next with a rogue's gallery of colorful (yet dubious) characters.