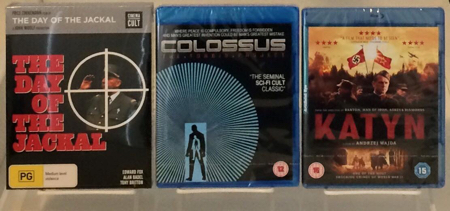 The shop received packages from Australia and Britain today that contained three titles: the newest addition to 4xblu's inventory, Joseph Sargent's "Colossus: The Forbin Project," the customer requested debut of Fred Zinnemann's "The Day of the Jackal," and a restock of Andrzej Wajda's "Katyn."
"Colossus: The Forbin Project" is a 1970 sci-fi film based the first book of D.F. Jones's Colossus Trilogy. The film's director, Joseph Sargent, spent most of the 60s helming television episodes before directing his first picture for the screen, 1968's "The Hell with Heroes." For his sophomore effort, Universal gave Sargent plenty to work with. In the audio commentary included on the disc, the director calls "Colossus: The Forbin Project" a "magnificent plaything," saying he was "suddenly thrust in a sandbox with all the toys any kid would ever want." Not only was Sargent blessed with state of the art technology on-set and a crew that included masters of their craft like matte artist Albert Whitlock and costume designer Edith Head, but, in an effort to "open the picture up," Sargent was also allowed to film on location in Berkeley and Rome with a helicopter, something that was far less typical then than it is today.
Leading the cast of "Colossus: The Forbin Project" is Eric Braeden, who's best know today for starring on "The Young and the Restless" as Victor Newman for the past three decades. Despite previously appearing in television and film for years under his own name, Hans Gudegast, by the time Braeden was chosen for "Colossus" Universal's Lew Wasserman insisted that he change his name if he was going to star in the film. At first Braeden resisted, but then later relented, calling it "one of the most difficult decisions I had to make." Joining Braeden in the film's racially diverse cast (which Sargent confirms was intentional) are 70's and 80's sitcom stalwarts Susan Clark (Emmanuel Lewis's mother on "Webster"), Marion Ross (Mrs. Cunningham on "Happy Days"), and Dolph Sweet ("Gimme a Break!"'s Chief Carl Kanisky).