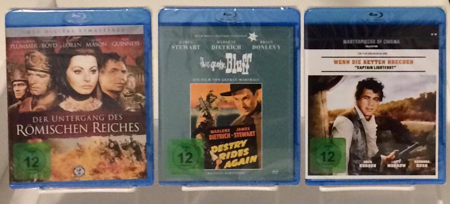 The latest round of 4xblu online store additions is ready to be revealed. Today's trio consists of Anthony Mann's "The Fall of the Roman Empire," George Marshall's "Destry Rides Again," and Douglas Sirk's "Captain Lightfoot."
In a career that spanned from the presidencies of Woodrow Wilson to Richard Nixon, George Marshall was a journeyman who got his start behind the camera at Universal, directing shorts and five-reelers for silent era cowboys like Harry Carey and Tom Mix as well as Hollywood High School's first homegrown movie star, Ruth Roland, before moving on to sound-era comedies with the likes of Laurel and Hardy, W.C. Fields, and Bob Hope. Perhaps his greatest achievement, 1939's "Destry Rides Again," would combine the two genres to great effect.
"Destry Rides Again" takes place in Bottleneck, a rough and tumble town that's just made Wash Dimsdale, the town drunk, the latest in a long line of sheriffs. When he declares his intention to straighten up he's treated as a laughinstock, at which point he vows to deputize Tom Destry (Jimmy Stewart), the son of the sheriff whom he once served as a deputy, whom he claims was "brought up to be the toughest and fightinest man that ever growed up in the west." However, when Destry the Younger rides into town he makes rather the opposite impression, carrying a lady's parasol and canary cage instead of a gun. As it turns out, his father's murder has convinced him that there's got to be a better way than maintaining law and order through violence.
Stewart was still a rising star at the time of "Destry Rides Again," being billed second after Marlene Dietrich, whose career was on the decline at the time (by this point it had been almost five years since "The Devil is a Woman," the last of her Paramount films with Josef von Sternberg). The villain Kent is played by Brian Donlevy, whom audiences today probably know best for his roles as the titular characters of "The Great McGinty" by Preston Sturges and the Hammer sci-fi classic "The Quatermass Xperiment."