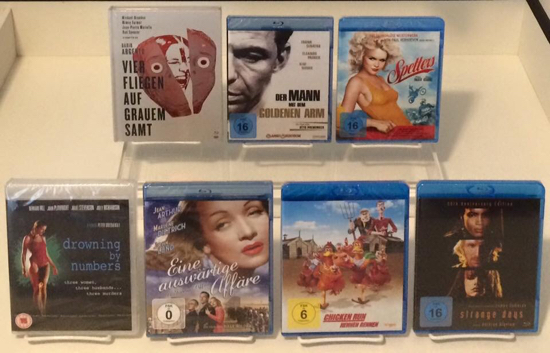 Packages from Germany and Britain arrived today containing one new addition to the shop's inventory, Otto Preminger's "The Man with the Golden Arm," and six restocks. From the UK came Peter Greenaway's "Drowning By Numbers," while the German restocks consisted of Dario Argento's "Four Flies on Grey Velvet," Paul Verhoeven's "Spetters," Peter Lord & Nick Park's "Chicken Run," Kathryn Bigelow's "Strange Days," and Billy Wilder's "A Foreign Affair."
Though born in Austria, Billy Wilder got into the film business after moving to Berlin, where he worked as a journalist before becoming a screenwriter. However, with the rise of Hitler and the Nazis in Germany Wilder, who was Jewish, moved to France, where he worked briefly before coming to the United States in 1933. Having established himself as a director with such hits as "Double Indemnity" and "The Lost Weekend," Wilder returned to war-ravaged Germany to make 1948's "A Foreign Affair" with German-born superstar Marlene Dietrich.
The film tells of a love triangle between an American G.I. (John Lund), his fräulein with a mysterious past (Dietrich), and an American Congresswoman (Jean Arthur) who comes to Berlin with a delegation sent to investigate the morale of U.S. troops. When I first watched the disc I was concerned about the amount of unsubtitled German in the film, but a viewing on Turner Classic Movies confirmed that German remains untranslated on the domestic version (instead, characters will often summarize what's been said in English afterward).