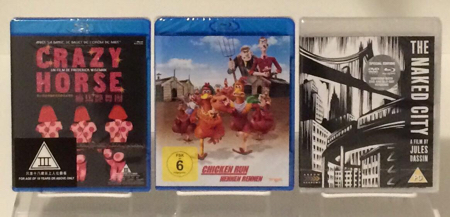 It's time to unveil another trio of online store additions. The latest titles to grace 4xblu's virtual shelves are Frederick Wiseman's "Crazy Horse," Jules Dassin's "The Naked City," and "Chicken Run" by Aardman's Peter Lord and Nick Park.
Aardman Animations began when Peter Lord and David Sproxton teamed up at art school in the early '70s, with Nick Park coming onboard in 1985. Aardman collaborated on Peter Gabriel's "Sledgehammer" video in 1986, then in 1991 Park's "Creature Comforts" won the first of three Best Animated Short Film Oscars in six years (the latter two featuring Aardman's most famous characters, Wallace and Gromit).
2000's "Chicken Run" marked the studio's first feature length film, and as of this writing it's the highest grossing stop motion film in history. Harkening back to P.O.W. stories "The Dirty Dozen" and "Hogan's Heroes," "Chicken Run" tells of a failing chicken farm whose owners seek to reverse their fortunes by moving into the sale of chicken pot pies. The chickens, getting wind of what lay in store for them, scheme for a way to escape from the farm to no avail. One day a Rhode Island Red named Rocky comes bounding onto the farm, and suddenly there's a new plan: Rocky will teach them how to fly and then they'll make their escape. Alas, the plan only has one minor flaw….