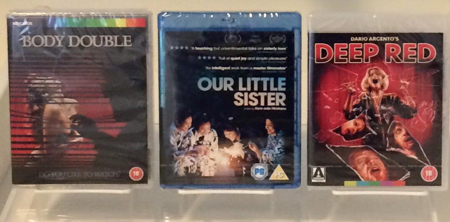 The shop received a trio of British titles today. Only one was initially a customer request (Indicator's Blu-ray of Brian De Palma's "Body Double"), however one got claimed while in transit (Dario Argento's "Deep Red") and the other was quickly snapped up upon arrival (Hirokazu Kore-eda's "Our Little Sister").
Though there have been plenty of releases for Brian De Palma's "Body Double," the general consensus seems to be that — at least among those that are currently available — Indicator's Blu-ray is the most desirable of the lot. Why? Well, let's see… the feature is sourced from the film's 4k restoration and the region free disc contains the four featurettes and "Pure Cinema" doc on the ultra-expensive Carlotta edition, as well as an isolated score. Also included (at least during the initial run of 5,000 copies) is a 40 page booklet with a new essay and an extensive interview with De Palma.
In the past few weeks I've frequently been asked about whether the shop carries Indicator titles. Because the answer is no, the next question is usually whether I intend to do so in the future, to which I respond that I certainly would like to, however for now the shop has to handle all Indicator titles on a request basis. The reason for this is that, because Indicator is a relatively new company and their titles are fairly new, there's not a lot of precedent that's been established with regard to how they operate and how the various stages of their products' half life plays out. Can we expect them to do sales every few months like Arrow, or set up an Amazon UK store that offers lower prices than their site like Masters of Cinema? As of this writing the answer would appear to be no. However, when they first launched Indicator didn't ship to the United States, yet now they do. Also, they've said that some of their reissues will be without booklets, and some might be DVD only, but because this has yet to happen whether the reissues are going to be offered at the same price point appears (to my knowledge) to still be up in the air. The bottom line is that there's still a lot to be determined, so for now the shop has to exercise caution until there's greater certainty.
Another consideration is the fact that I promised Nick from Twilight Time that, as long as they have a title in print, the shop would not carry an import alternative. As anyone who has looked at the two comnpanies' offerings can tell you, there's a good bit of overlap between Twilight Time's titles and Indicator's, which is why (at least until they sell out domestically) titles like "The Last Detail" and "10 Rillington Place" will not be available from 4xblu, even as requests.
By all accounts, Indicator is doing a magnificent job on their releases, and I (as much as anyone) am looking forward to their titles gracing the shelves at 4xblu. However, at least for now, that's not something to which the store can commit.