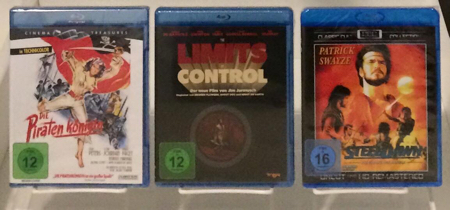 The latest slate of online store adds is ready to be unveiled. Today's trio consists of Jim Jarmusch's "The Limits of Control," Lance Hool's "Steel Dawn," and Jacques Tourneur's "Anne of the Indies."
"Anne of the Indies" is the fourth Tourneur film to grace 4xblu's shelves, with the previous three being "Curse of the Demon," "El Gaucho," and "Canyon Passage." This time around Jean Peters is the film's titular character, a feisty protégé of the dread pirate Blackbeard who "struck terror in the hearts of seafarers and merchants, from the ports of the Carribbean to the great trading houses of London." Despite a no quarter approach while trawling the high seas for plunder, the cap'n falls for a prisoner on a British ship named Frenchy. This creates a rift with her mentor Blackbeard, who can't quite place where he's run into the Frenchman before but he's certain that the guy's bad news.
After making his name at RKO with low budget horror films like "Cat People" and "I Walked with a Zombie" as well as the noir masterpiece "Out of the Past," Tourneur moved on to greener pastures while RKO floundered under Howard Hughes, helming the Technicolor "Anne of the Indies" and "El Gaucho" for 20th Century Fox and "Curse of the Demon" for Columbia before transitioning into mostly working in television during the late 50s and 60s.