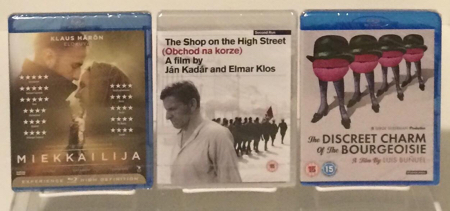 Another trio of titles was added to 4xblu's online offerings today. Their ranks consisted of "The Shop on the High Street" by Ján Kadár and Elmar Klos, Luis Buñuel's "The Discreet Charm of the Bourgeoisie," and Klaus Härö's "The Fencer."
"The Fencer" is director Klaus Härö's fifth theatrical feature, and it marks the fourth time that one of his films has been Finland's submission for the Best Foreign Film Oscar, tying him with Aki Kaurismäki. "The Fencer" is only the second Finnish film to be shortlisted when the candidates are pared down to nine contenders in December, with Kaurismäki's "The Man Without A Past" (which went on to become the only Finnish film to ever receive an Oscar nomination) being the other. "The Fencer" was also a Golden Globe nominee for Best Foreign Language Film, though it lost to Hungary's submission, "Son of Saul" by Lásló Nemes.
Despite representing Finland, the primary language of "The Fencer" is Estonian, and the film's main character is based on Estonian fencer and coach Endel Nelis. As the story goes, Endel was a talented young fencer who, along with his classmates, was forced to join the Nazis while the Germans occupied the Baltic states during World War II. During military training Nelis was among those who fled into the woods, but after his country's annexing by the Soviet Union in 1944 the Soviet secret police's efforts to hunt down former Nazis forced him into hiding, which is how he wound up as a phys. ed teacher in a small town who set out to teach a ragtag bunch of kids how to fence.
In a manner similar to the way "Hidden Figures" takes the Disney sports movie formula and applies it to science, "The Fencer" takes the genre's familiar trappings and sets them in a post-WWII drama behind the Iron Curtain. Härö's technical skill gives the film the sort of polish that indicates a Lasse Hallströmesque career could be his should he ever decide to come to Hollywood.